Navigating Direct School Admission Amid COVID-19
Changes to DSA and Preparation Tips
10-minute read
Posted on: 19 May 2020
Last updated on: 19 May 2020
If you have a child in Primary 6 or Secondary 4/5 this year, you may be considering Direct School Admission (DSA). This article provides an overview of DSA application for both secondary and junior colleges, traits that schools look out for and preparation tips.
DSA Talent Areas
Since 2004, the DSA exercise allows graduating students from Primary 6 and Secondary 4/5 to apply to Secondary School or Junior College before sitting for the national examinations. Depending on your child's talents, there are a few main talent areas which you can consider. For both DSA-Sec and DSA-JC, the generic criteria are largely similar. It is advisable to check out the school official websites for specific requirements. The table below summarises the talent areas and criteria sought by most schools.
Talent area
Criteria (differs from school to school)
Sports and Games
- Member of top 4 teams in National Inter-school Championship
- Quarter-finalist in the National Age-Group Individual Championship (or any major championship organized by the Singapore Primary/ Secondary Schools)
- Proof of participation in other competitions
Visual, Literacy and Performing Arts
- Talent in playing musical instruments other than the piano or violin. (most schools require students to be able to perform musical instruments in the Concert Band or Chinese Orchestra)
- Represented school in the Singapore Youth Festival
- Achievement in other external national/ international competitions
Science, Mathematics and Engineering
- Demonstrate strong interest and drive to excel in the study and research of Science
- Relevant achievements and experiences in STEM fields such as Mathematic, Sciences, Infocomm and/or Robotics
- Portfolio of outstanding achievements and work that demonstrates passion for and aptitude in Science
Languages and Humanities
- Demonstrate passion for and aptitude in the Humanities, Social and Environmental Sciences (e.g. current affairs, politics, international relations and sustainable development)
- Possess excellent language (reading, writing, speaking and listening) and research skills
- Portfolio of outstanding achievements and work in areas of Humanities, Social and Environmental Sciences
Leadership
Currently holding leadership positions in primary/ secondary school e.g. Prefectorial Board, CCAs, Organising committee for school-wide programmes or events that positively impact the school body / broader community, etc
Note: this table serves as a general guideline and does not represent all schools in Singapore. Minimum requirements may differ from school to school. Applicants are advised to check out the school they are applying to for more information.
DSA-JC Academic Areas (in addition to above talent areas)
Talent area
Criteria (differs from school to school)
Art Excellence
Art Elective Programme*
Music Excellence
Music Elective Programme*
Science Research Excellence
Science Training and Research Programme (students must offer H3 Science research)
Language Elective Programme
- Malay Language Elective Programme*
- Tamil Language Elective Programme*
*Successful students must offer H2 subject of the category which they are accepted through.
Source: Various school websites, refer to Annex A.

Here is a summary of the important dates for both DSA-Sec and DSA-JC.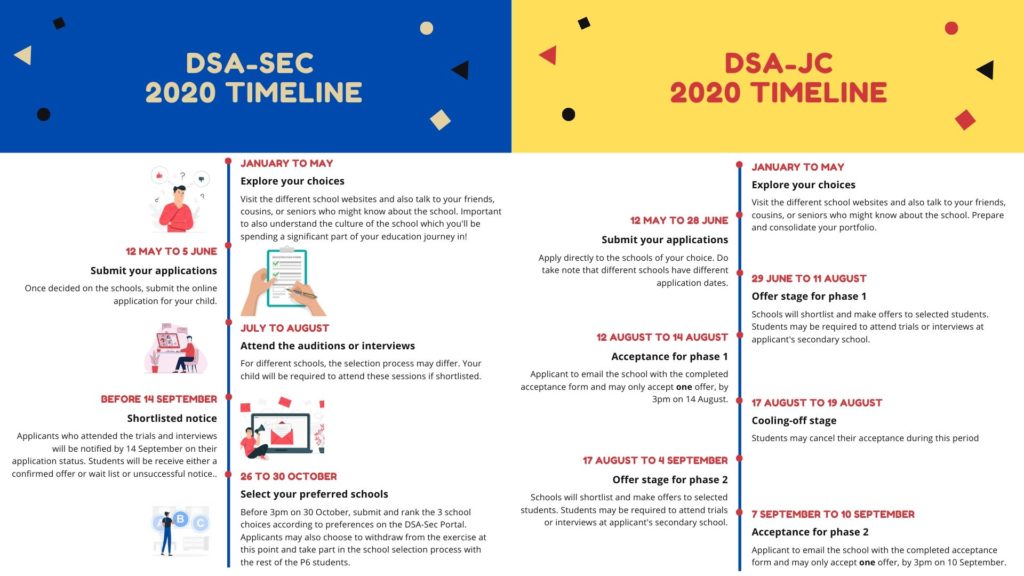 Traits Schools Look Out For
To maximise the chances at DSA, it is important for your child to know what interviewers are seeking and learn how to organise and present themselves as a desirable candidate. Below are some traits that schools will be paying attention to when evaluating applicants:
1. Talent (visible from portfolio or audition)
2. Passion - demonstrate your enthusiasm for a specific area of the school and ask the interviewers questions about the co-curricular activities or programmes of the school. This could be related to the talent area you are applying for or something additional such as the school's academic enrichment programmes.
3. Confidence - showcase your strengths and highlight how these strengths set you apart from the others. Discuss how these strengths help you in areas on top of your talent areas. For instance, being in a team sports strengthens the interpersonal skills of your child and have led to your child being elected as the Captain of the team and a Councilor of the school.
4. Positive learning attitude - discuss how you face difficulties with a positive attitude, perseverance and the drive to improve yourself.
5. Fit with school culture - find out the school's culture from friends or family before the interview and show how you can be a good fit with the choice of words and mannerism.
In general, schools are looking for talent who are sincere, independent and can cope with the demands of co-curricular activities and academic rigour.
Tips For Interview Preparation
Announced on 5 May 2020, this year's DSA scheme will be done through video conferencing in order to observe safe distancing measures. To ensure fairness, the online auditions and interviews will be conducted in school.
The interview can sometimes be the tipping point between an acceptance or a rejection, so it is important to put your best foot forward. They are generally 10 minutes or less, hence your child does not have a lot of time to convey who they are or why they are a great choice for that school.
To help your child to increase their chances of nailing the online-interviews, here are 3 effective tips:
1. Prepare your answers beforehand, but be natural when answering.
Here are some commonly asked questions during the interview for both DSA-Sec and DSA-JC:
a) Questions about the applicant:
- What are your strengths and weaknesses?
- Share your track record and achievements
- How do you spend your free time?
- Introduce yourself in one sentence
b) Reasons for choosing the school or programme
- Why did you choose to apply to our school?
- How do you think you can contribute to our school?
- Did you apply to other schools? Why or why not?
- If there is one thing you could change about your school, what will it be?
c) Non-routine questions that are meant to see applicant's ability to handle surprises
- Tell me about a piece of news that you found interesting and why?
- What are your aspirations in life? How do you intend to achieve them?
- What are your thoughts on the 2-month long circuit breaker? How did you spend your time during this period?
Your child should not memorise the whole answer. Instead, prepare the main pointers and expand on them during the interview. Confidence is key!
2. Be savvy in navigating the online platform
Now that the trials and interviews are done online, your child may want to familiarise themselves with the platforms that they will be using. For instance, exploring the functions on Zoom for example screen-sharing (if allowed during an interview, your child can display their portfolios on screen). Conduct several dry runs, to make sure that there are no hiccups during the interview.
3. First impression matters
When your child first "enters" the meeting room, if possible, stand, smile and greet the interviewers. However, do not be overly enthusiastic and listen carefully to any instructions given! In the event you are unable to decipher the question posed to you, do not panic, simply ask politely for them to repeat.
When speaking, avoid staring at the webcam. Instead, sit up tall and look naturally at the screen, smiling slightly. In addition, reduce any unnecessary fidgeting, such as touching of face and hair as these small actions could be distracting on screen.
Conclusion
In summary, if your child shows strong inclination and would like to hone his or her talent beyond academic excellence, DSA would be a great option. We would like to wish all students the best of luck for your application!
If you are interested in receiving our education articles or invitation to future webinars on DSA tips, drop us an enquiry and we will be sure to put you in our mailing list. Alternatively, follow us on Facebook and join us online during our webinar sessions!
For the more information on DSA-Sec schools, you may refer to this website: https://beta.moe.gov.sg/secondary/dsa/
For DSA-JC, you may refer to the school's official website for the exact timeline and procedures in Annex A.
Annex A
| Junior College | Website |
| --- | --- |
| Anderson Serangoon Junior College | https://asrjc.moe.edu.sg |
| Anglo-Chinese School (Independent) # ^ | https://www.acsindep.moe.edu.sg |
| Anglo-Chinese Junior College* | https://acjc.moe.edu.sg |
| Catholic Junior College* | https://cjc.moe.edu.sg |
| Dunman High School^ | https://dunmanhigh.moe.edu.sg |
| Eunoia Junior College^ | https://eunoiajc.moe.edu.sg |
| Hwa Chong Institution # ^ | http://www.hwachong.edu.sg |
| Jurong Pioneer Junior College | https://jpjc.moe.edu.sg |
| Nanyang Junior College* | https://nanyangjc.moe.edu.sg |
| National Junior College^ | https://nationaljc.moe.edu.sg |
| Raffles Institution# ^ | http://www.ri.edu.sg |
| River Valley High School^ | https://rivervalleyhigh.moe.edu.sg |
| School Of The Arts, Singapore@ ^ | https://www.sota.edu.sg |
| Singapore Sports School@ | https://www.sportsschool.edu.sg |
| St. Andrew's Junior College* | https://standrewsjc.moe.edu.sg |
| St. Joseph's Institution# ^ | https://www.sji.edu.sg |
| Tampines Meridian Junior College | https://tmjc.moe.edu.sg |
| Temasek Junior College^ | https://www.temasekjc.moe.edu.sg |
| Victoria Junior College^ | https://victoriajc.moe.edu.sg |
| Yishun Innova Junior College | https://yijc.moe.edu.sg |

* Government-aided JC
# Independent School offering JC or equivalent courses / Independent JC
@ Specialised Independent School
^ JCs participating in Phase 1 only